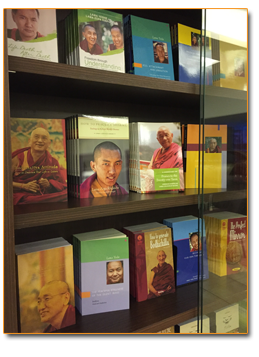 ABC publishes a wide range of Dharma books by our spiritual teachers, including His Holiness the Dalai Lama, our Spiritual Director Lama Zopa Rinpoche and our Resident Teacher Khen Rinpoche Geshe Chonyi. Over the years we have published more than 20 titles, some independently and others in collaboration with Wisdom Publications, the publishing arm of the FPMT. A number of these books have been revised and reprinted due to popular demand.
In addition, we have produced several DVDs and added them to our expanding media collection. These include two archived teachings by Lama Yeshe and Lama Zopa Rinpoche: "Freedom through Understanding" and "Life, Death, and after Death".
All our books and disc recordings are free and available for browsing at the centre's Level 1 Foyer.