JINPA for Our Community
Reaching out to those in need
Joy in Practising Altruism for Our Community
[Jinpa: Tibetan for 'generosity']
Our JINPA community project is back!
Join us as we head out once more on a generous grocery give-away to families in need all over Singapore.
Sunday 18 June 2017, from 9.30 am at Amitabha Buddhist Centre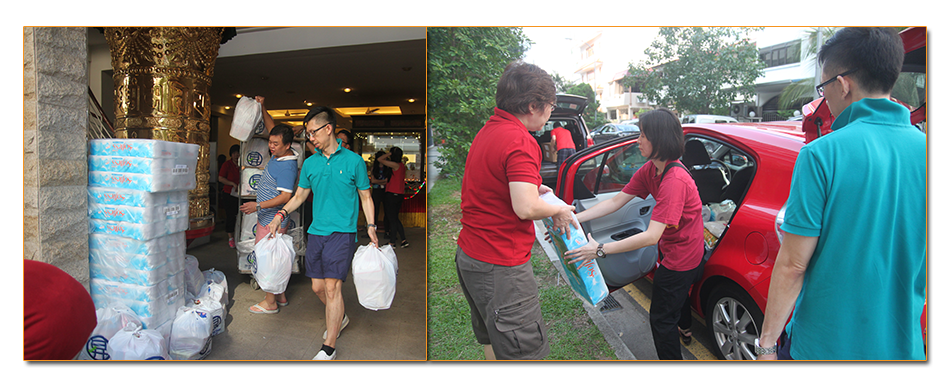 Amitabha Buddhist Centre partners up again with the Chinese Development Assistance Council (CDAC) to distribute groceries to 250 low-income households in the heartlands, island-wide.
Thanks to the great kindness and generosity of our members, friends and sponsors, the early rounds of JINPA for Our Community were a great success following its launch in April 2013. Our 5th JINPA event on 4 April 2015 drew enthusiastic support from 186 volunteers. We are pleased to bring back this popular charitable event for 2017!
Calling out to our members and friends, come take part and support our 6th JINPA for Our Community:
Contribute to the grocery fund: Each household will receive $80 worth of donated food and groceries. Any cash contributions are welcome and will go towards the purchase of basic necessities including rice.
Drive and deliver: Calling out for volunteer drivers and despatch crews to bring our door-to-door deliveries to 250 homes across Singapore. Invite your family and friends to come on board. With your help, we look forward to making a difference for the sake of those in need.
Sign up: Be a part of JINPA for Our Community, our gift of generosity to the less fortunate. Tap here to make a donation or register as a volunteer. Alternatively, you can also visit our office.
Volunteer registration:Register here (till Monday, 5 June 2017)
Cash donations: Open till 9.30 am on 18 June 2017. Donate online here.
Note: Donations in-kind will not be accepted
Don't miss this opportunity to put our compassion into action! Everyone is welcome to take part!