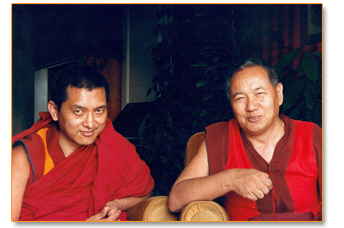 The seed for Amitabha Buddhist Centre began in the early Eighties when two Tibetan Buddhist monks made a brief stopover in Singapore—Lama Thubten Yeshe and Lama Zopa Rinpoche. Lama Yeshe was the founder of the FPMT organisation and Lama Zopa Rinpoche was co-founder and Lama Yeshe's heart disciple. That visit brought the lamas into contact with a small group of students, to whom Lama Yeshe then suggested the name of Amitabha.
Lama Yeshe passed away in 1984 and Lama Zopa Rinpoche became Spiritual Director of the FPMT.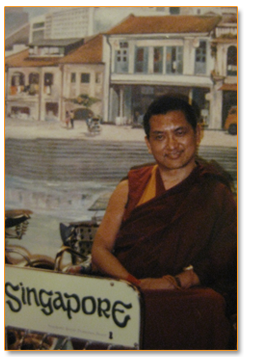 In 1985, while on retreat in India, Lama Zopa Rinpoche developed a strong and sudden impulse to visit Singapore. Following his instincts, Rinpoche arranged to visit Singapore soon after, arriving around 1986. During that visit, Rinpoche saw how introducing the proper study and practice of the Buddha's teachings would greatly benefit many people in Singapore. He was keen to pursue its development and this marked the actual beginnings of Amitabha Buddhist Centre.
In 1986, Rinpoche introduced the first FPMT teacher to his new Singapore students. The former Venerable Dieter from Germany gave lectures on Buddhism to an English-speaking audience. It was rare to find English classes on Buddhism in the 1980s, and even more rare to hear about the teachings of the Tibetan yogi, Lama Tsong Khapa (1357-1419). The interest in learning Buddhism continued to grow as Rinpoche sent over another teacher, an American nun, Venerable Thubten Chodron, in 1988.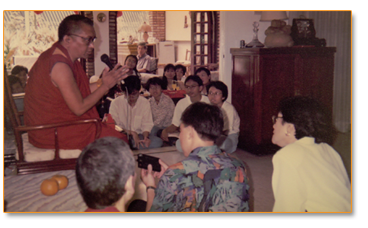 The formal establishment of Amitabha Buddhist Centre began in 1988. One of the students, Alice Chua, was greatly inspired by the teachings and felt the study group should be organised as a Buddhist society. Lama Zopa Rinpoche approved of the idea and gave his blessings. With just 30 members, Amitabha Buddhist Centre became an official entity on 1 January 1989. That year, Rinpoche assigned Venerable Sangye Khadro, another American nun, to the centre. She stayed in Singapore for eleven years as our resident teacher.