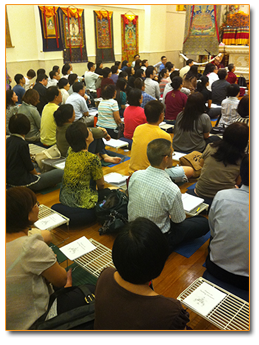 The Basic Program provides structured all-rounded education in the Buddha's teachings to committed students ready to progress beyond introductory-level study and practice. It is called the 'Basic' Program because its practice-oriented curriculum provides the foundation for understanding the entire Buddhist path from sutra to tantra.
The Basic Program is an FPMT course designed by Lama Zopa Rinpoche, the Spiritual Director of the organisation, Foundation for the Preservation of the Mahayana Tradition. The topics are drawn from key aspects of Buddhist philosophy with the stages of the path to enlightenment as the basis. It prepares students for advancement to higher levels of study such as the FPMT Master's Program, or to engage in long-term meditation or retreat.
This course is also taught in a growing number of FPMT centres around the world. Students who successfully complete all nine modules, pass the final exam and fulfil the retreat requirement will graduate with the Basic Program Completion Certificate.
Khen Rinpoche teaches the Basic Program in Tibetan with English translation provided by Venerable Tenzin Gyurme.
Modules completed in the 2nd Basic Program from June 2011 – October 2016:
Middling Stages of the Path to Enlightenment

Mind and Cognition

Tenets

The Heart Sutra

Engaging in the Bodhisattva Deeds, Chapters 1 – 8

Sublime Continuum of the Mahayana, Chapter 1

Wheel of Sharp Weapons

The 37 Aspects of the Path to Enlightenment

Current Module
Module 9: "Tantric Paths and Grounds"
Dates: Currently in progress, Tuesdays and Thursdays, 7.30 – 9.30 pm

This module presents an overview of the four classes of tantra according to Buddhist teachings. In particular, the paths and grounds according to highest yoga tantra will be dealt with, and the profound details of the generation and completion stages of highest yoga tantra will be explained.
REGISTRATION IS REQUIRED FOR ALL STUDENTS who wish to attend, INCLUDING those already registered in the Second Basic Program.
Pre-requisites for attending "Tantric Paths and Grounds":
All students including those presently enrolled in the Basic Program MUST have received a great initiation of highest yoga tantra and the tantric vow in order to receive these teachings

Students should preferably already have an understanding of the 'lam-rim' (stages of the path to enlightenment) and the paths and grounds as taught in the Perfection Vehicle
Registration for this module has closed.